Symbiosis Shell Scheme is the quality alternative to old fashioned exhibition shell scheme and is ideal for venues and show organisers across UK and Europe.
Why work with Symbiosis Shell Scheme?
Because we have all the basics of your shell scheme covered.  Symbiosis' unrivalled range of contemporary shell scheme is designed to suit every event imaginable.  By using the latest beMatrix build technology, our cost effective shell is available in the widest variety of sizes and styles.  Whatever shell scheme you are looking for, we can design, manufacture and build it.
Our huge stocks of this durable, reusable and 100% recyclable build system is continually checked and refreshed to guarantee optimum quality delivery everytime. While our experience installation teams will ensure trouble free set-up and take-down with no mess or fuss.
But there is so much more on offer to help you get a bespoke shell scheme that goes beyond the ordinary. Whatever your venue we can devise shell scheme stands, reception booths, theatre & conference spaces, break-out zones and more that make the best and most profitable use of every inch of your floor space.
We have the facilities to completely project manage the event and full shell schemes. We do absolutely everything in-house.  And by everything, we mean everything:
Floors, coverings & carpets
Walls, backdrops & partitians
Artwork & graphics
Signage, banners & boards
Electrics
Technical coordination
Furniture
IT & AV equipment
Stage Management
Charging units, interactive features & attractions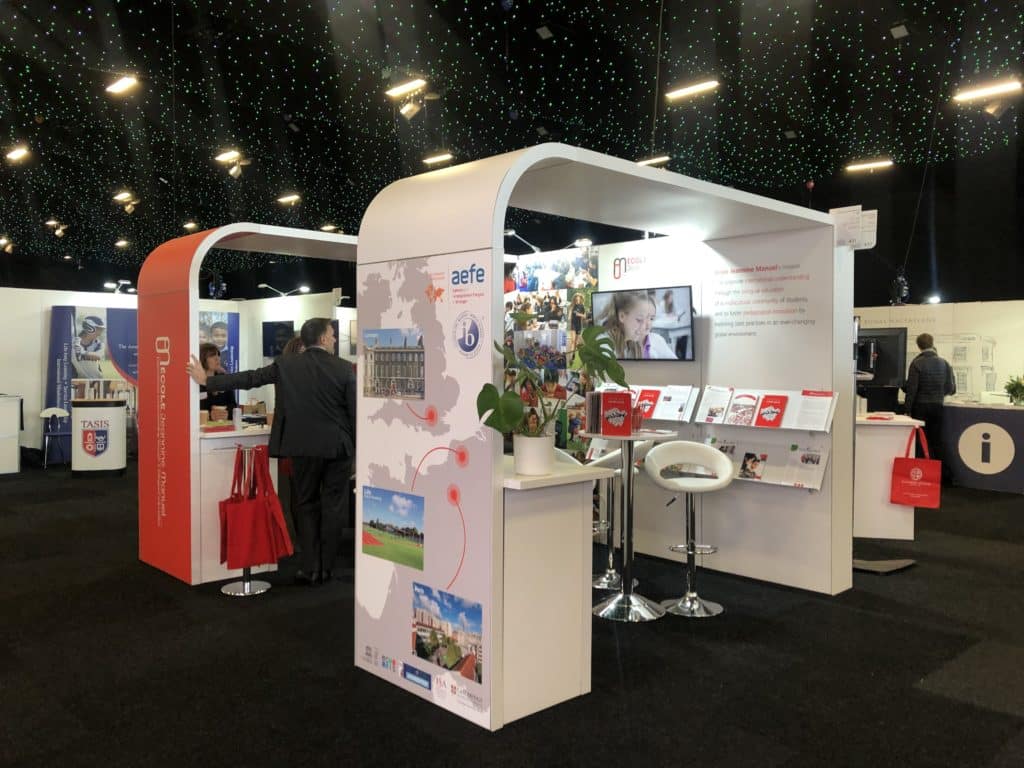 At Symbiosis we are reknowned for the excellence of our customer service, from your first contact to our final post-event review. And this always extends to your exhibitors.  Whatever the size of their stand space, everyone receives the same level of delivery and service with a smile.
Bespoke Exhibitors Portal
Our bespoke Exhibitors Portal makes things super simple for your exhibitors. Available for every show, customers can access their own private, secure area where they can find stand space details as well as a great range of exciting extras to help them make the most of their shell scheme stand.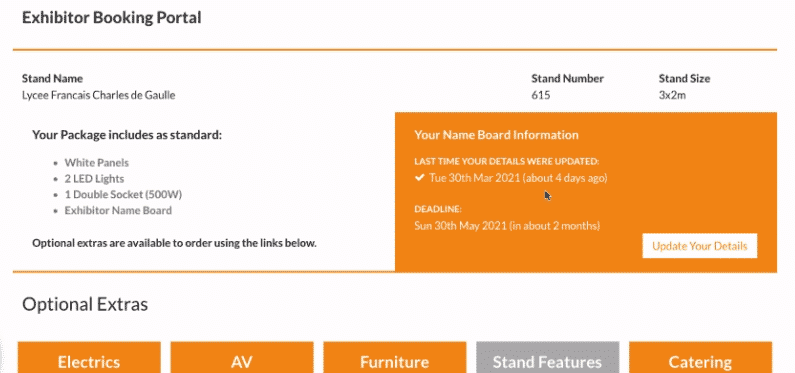 From full colour stand graphics, the latest exhibition stand I.T including flush-fitting LED panel video walls, screens of every size, tablets & internet to furniture, storage and much more.
Let's Talk Symbiosis Shell Scheme
Flexibility is our watchword, and we love working with organisers to bring their visions to life. Don't limit your imagination—talk to us about ways to make your show distinctive and keep your exhibitors coming back for more. Contact our experienced team for a friendly chat on 0207 039 0101 or hello@symbiosis.co.uk.
And if you're looking for inspiration why not take a look at a few of our Shell Scheme solutions some of our very happy clients.