Bespoke and modular exhibition stands – what's the difference? Actually recent technological advances have rather blurred the line between between the two. Which is good news! Because here at Symbiosis we use the same world leading, sustainable beMatrix build system, award-winning 3D design skills and quality install for all our exhibition stands.
We'll give your brand the 'wow' factor whether you're looking for a unique custom show-stopper or a simple, flexible display solution for multiple events.
So how does it work?
As all our stands are a promise of innovation, engagement and real return on investment, we leave nothing to chance by handling everything in-house.

Working seamless with you and your team, our Dedicated Project Managers will be there to guide you every step of the way. Once they've taken your brief, our Designers will set to work creating exciting 3D concepts. Using the latest beMatrix Inventor software, they can configure your stand design so that it works perfectly whatever the space, venue restrictions or show organiser rules.
With your Free 3D Design you'll receive a Comprehensive Proposal containing a detailed costing. We believe in total transparency. When your final design and budget is agreed, we'll ensure that you never get any unexpected additional charges.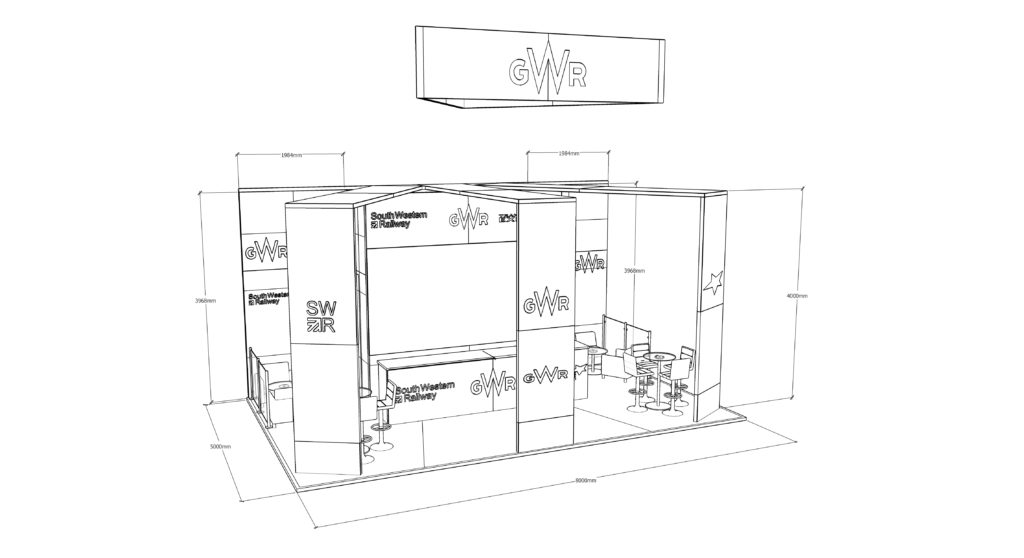 What's next?
When everything has been signed off by you, our experienced Production Team take over. As we handle everything in-house, you can relax and just look forward to the show. And by everything we mean absolutely everything:
Innovative Concepts & 3D Designs
Creative Artwork/Graphic Design & Production
High Resolution Large Format Printing & Production
Stand Service, Utilities and Health & Safety 
High Quality Stand Manufacturer & Installation
Secure Transportation & Storage
From the moment you get in touch you'll find our approach refreshingly different.  From our 'can do' attitude and laser focused attention to detail to our famous service with a smile!
It's showtime!
When it's showtime, your finished exhibition stand will be personally handed over – on time and on budget – by your Project Manager.  Everything will be ready, from videos and presentations pre-loaded to marketing materials and merchandised tidily stored away and even your fridge stocked with drinks.
Sustainable exhibition stands
Creative, cost effective AND strong on sustainability? What's not to like about our stunning stands!
Environmental & waste issues are now of key importance to all our clients. At Symbiosis we are working hard to ensure that every stand element is designed to be re-used or recycled, from flooring to framework and furniture.
Our beMatrix build system is made from lightweight aluminium so it costs less to transport and needs fewer people to build – a saving for you & the environment. At the end of a long life there is no waste as the frames & components are 100% recyclable. And since the stand materials and graphics are reused many times over, the carbon-footprint involved is much reduced on each project.
Get in touch
We'd love to show you how our flexible, sustainable and cost-effective bespoke and modular stands will give your brand the wow factor at your next exhibition or trade show. Why not give the team a call NOW on 0207 039 0101 or send a note to hello@symbiosis.co.uk
Want more information? You'll find further details of our cost-effective Exhibition Stand Hire service here.  And if you're looking for inspiration why not take a peek at a few of our latest Exhibition Stands for some of our very happy clients in our Stand Ideas.