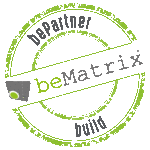 Symbiosis is proud to be a world class beMatrix Build Partner.  beMatrix enables us to bridge the gap between bespoke and modular stand systems with its 360° hidden building solution. It gives us unrivalled creativity and flexibility whatever your exhibition stand brief or budget.
Your exhibition stand is an important part of your marketing mix. So when you invest in our 3D design and build process you can rest easy knowing that we only work with world class beMatrix display systems and components.
Sustainable, Flexible & Cost Effective
Durable and reusable, the beMatrix system enable you to use your stand again & again as well as modify the layout for different venues or spaces. Made from lightweight aluminium, it costs less to transport and needs fewer people to build – a saving for you and the environment. And at the end of a long life there is no waste as the frames and components are 100% recyclable.
Trade beMatrix Hire
At Symbiosis we've invested a lot to make sure that we have one of the UK's largest and most comprehensive stocks of beMatrix frames, components and LEDskin panels.
We love to share! So if you're a stand builder or stand contractor looking to use the very latest beMatrix build technology on your next project, then talk to our friendly team on 0207 039 0101 or hello@symbiosis.co.uk about our cost effective beMatrix hire options.