Symbiosis has been the official exhibition stand contractor for The Independent Schools Show since 2019. With work now beginning on the 2023 event, it's a great time to look back over the last three brilliantly successful shows. Every year we look for ways to improve what we do. We then take that learning and reinvest it in our systems, processes and people.
In 2019, we were super excited to take on another challenge for Symbiosis Shell, our affordable quality shell scheme solution, and our experienced event project management team. The ISS is the 'go-to' exhibition for prospective pupils and their parents looking for private education. Busy, vibrant and well attended, the show is held annually in Battersea Evolution.  The two-day schedule is packed with over 150 schools exhibiting and a full programme of talks and workshops.  Our brief was to deliver an event that reflected the unique customers and marketplace, on-time, on-budget, stress-free and to the highest standards. No pressure!
Our Response
Symbiosis is a beMatrix Build Partner. We use the very latest build technology to offer an unrivalled range of quality, sustainable shell scheme solutions.  BeMatrix bridges the gap between bespoke and modular stand systems.  It gives Symbiosis Shell much more creativity, flexibility and scope than other shell scheme providers. And as it's made from lightweight aluminium, it's durable, reusable and most importantly 100% recyclable.
Our designers worked closely with the ISS organisers and venue managers to create a portfolio of stunning 3D designs. From grand entrance ways and spacious reception/registration areas to information zones and theatres.  Exhibitors could choose from a catalogue of simple but effective stand designs.  Entry level 2m x 3m booths with one, two or three walls to more custom displays with arches and storage space.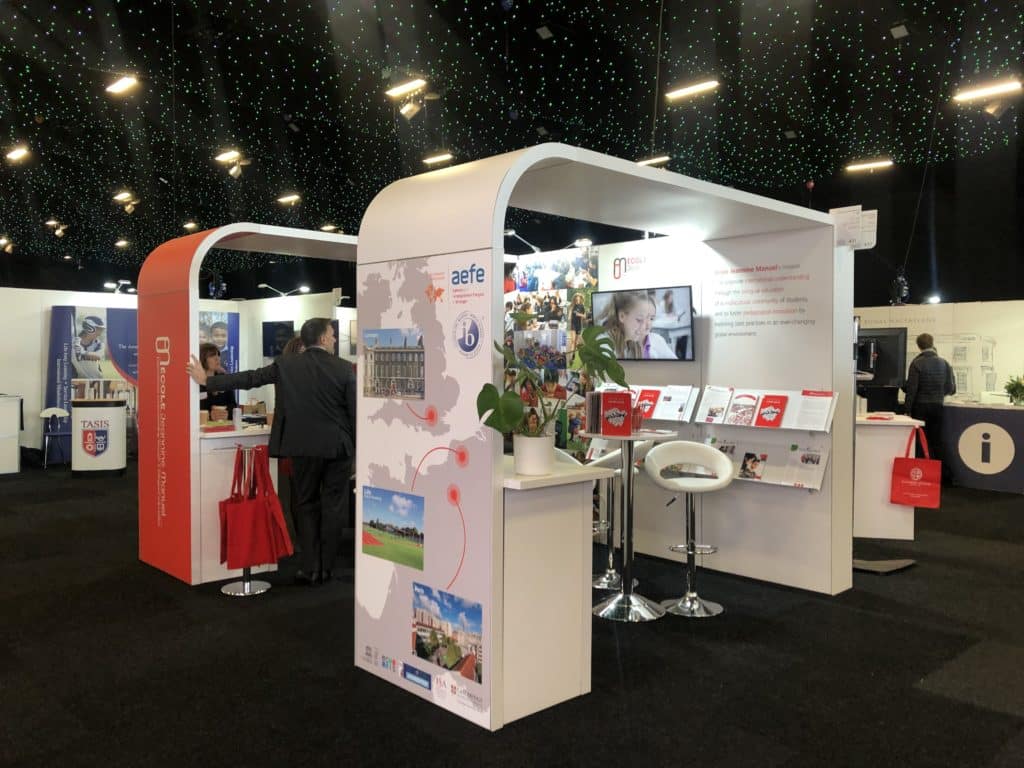 Exhibitor Portal
Schools were able to order everything they needed for their stand from our online exhibitor portal.  It included all the basics items from lighting to furniture plus custom features such as full colour graphics and LED videowalls.  Our Customer Service Team were always available offering advice and guidance. Additionally they were also happy to meet-up with schools who needed a little more assistance.
Delivery
The ISS build day finally dawned after many months in design, print and production. We were so ready! Symbiosis & STANDBUILDER UK installation teams were onsite and working hard before the sun came up. The result? The entire show was built in record time! Thanks to our incredible teams, meticulous planning, strong project management and clear onsite direction. Our site 'Clean & Clear' policy ensured that the hall was kept safe and tidy throughout the day. Moreover this enabled the smooth handover of all areas including over 100 stands to delighted customers.  We installed all the AV and IT which was throughly tested and videos preloaded.  The organisers had a stress-free nights sleep before returning refreshed and ready to open the show.  Our at-show helpdesk team were on hand throughout to answer any exhibitor questions.