Our double decker exhibition stands ensure maximum impact. With many years' experience designing & building innovative two tier stands, our clients include some of the world's biggest and best brands from Bet 365 and NYX Scientific Games, to Bahrain Tourism & Exhibitions Asssociation and IMG Arena.  Contact us NOW to discuss your double decker stand on 0207 039 0101 or hello@symbiosis.co.uk.
The BET365 Brief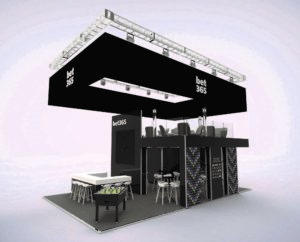 Bet365 is the world's largest online sports betting company with over 35 million customers worldwide. Symbiosis has delivered all its European double decker exhibition stands design, build & management requirements since 2010.
In 2019 it challenged us to create a striking two-storey stand which reflects its key strengths as a rapidly evolving gaming brand: Innovation & Technology, Trusted, & Customer Service.  The design also had to showcase the company's new branding & corporate colour scheme.
Our Response
A dramatic double decker exhibition stand that delivers a high impact with a top quality look & feel. Designed using our own bespoke steel framework developed in-house by our engineers.
This not only ensure that the complex structure complies with all UK & European health & safety regulations. It also future proofs the stand allowing the flexibility to refresh the layout & flow.
The Result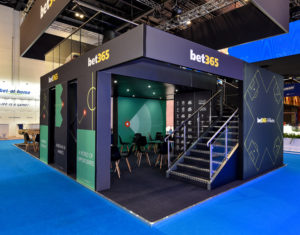 A stunning stand that impresses everytime.  The huge fabric banner allows for instant visability across the busy exhibition hall.  While a large LEDskin panel video wall & sound system ensures that the latest campaigns can't be missed.
The ground floor is open & welcoming, ideal for lots informal meetings & networking. A generous custom built bar, with two fridges & lockable cupboards, caters for all refreshment needs, from coffee to cocktails.  It is manned throughout by our friendly bi-lingual hosts.
A sweeping staircase provides access to the spacious VIP upper deck with its glass balustrades & great views across the show. It also conceals plenty of secure understairs storage great for personal items as well as marketing materials & supplies.
Testimonial
"The team have consistently exceeded expectations by going the extra mile for us" We're delighted to work with Symbiosis. They deliver fantastic stand designs year in, year out. Always eye-catching & on brand. Symbiosis has helped us to become one of the first industry operators with a two-tiered stand, which has served to give us a dominant presence at our many events.
The service received from Symbiosis before, during & after the events has been exceptional. The team consistently exceed expectations by going the extra mile for us. In short, Symbiosis' friendly & flexible approach ensures that they can cater to any & all exhibition needs & they come with the highest recommendation from Bet365.