The Brief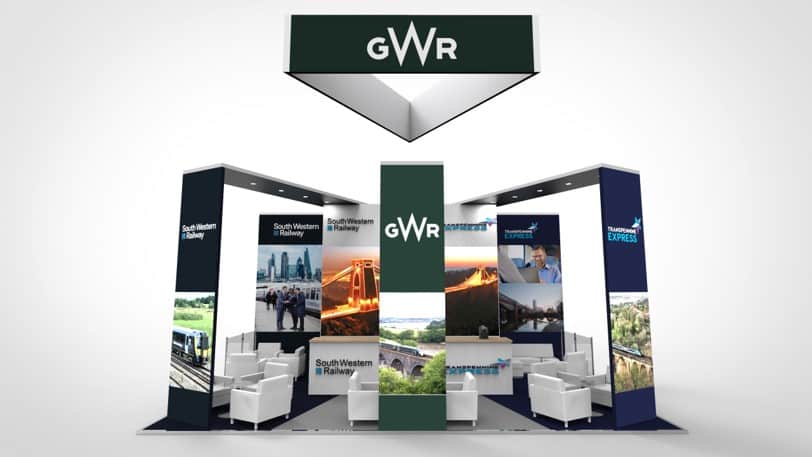 Symbiosis was asked to tender for the design & construction of the joint GWR,  South Western Railway & TransPennine Express exhibition stand at the Business Travel Show 2019. This was the first time for the Train Operating Companies (TOC) to exhibit together.  While this was an an exciting opportunity, it had its challenges in the form of the different brand guidelines.
The main stand objective was to raise the profile of the TOC's as well as offer innovative solutions to engage with new and potential customers.  The tender asked for the design concept to have three distinct TOC branded areas, all of equal size contained in the one harmonious 40m² space.  And again the hanging banner had to equally feature the three brands.
Our Response
Our team first researched the orientation finding that the three-sides open space was well positioned towards the main entrance of the National Hall, Olympia London. The also site benefited from lots of natural light which something that they really wanted to incorporate into the look and feel.
Our winning design featured three imposing branded archways, one for each TOC, spanning the width of the stand.  These met over the central welcome area with its eye-catching 3m x 1.5m LEDskin panel video wall and custom made refreshment counter.  Each TOC had its own distinct space on the stand with equal branding & primary corporate colour carpeting.  Over head a triangular banner showcased all three brands.
An ample secure storage room & kitchen area were concealed by  the main display walls.  White leather lounge furniture finished the look and provided lots of essential meeting spaces.
Stand Delivery at the Business Travel Show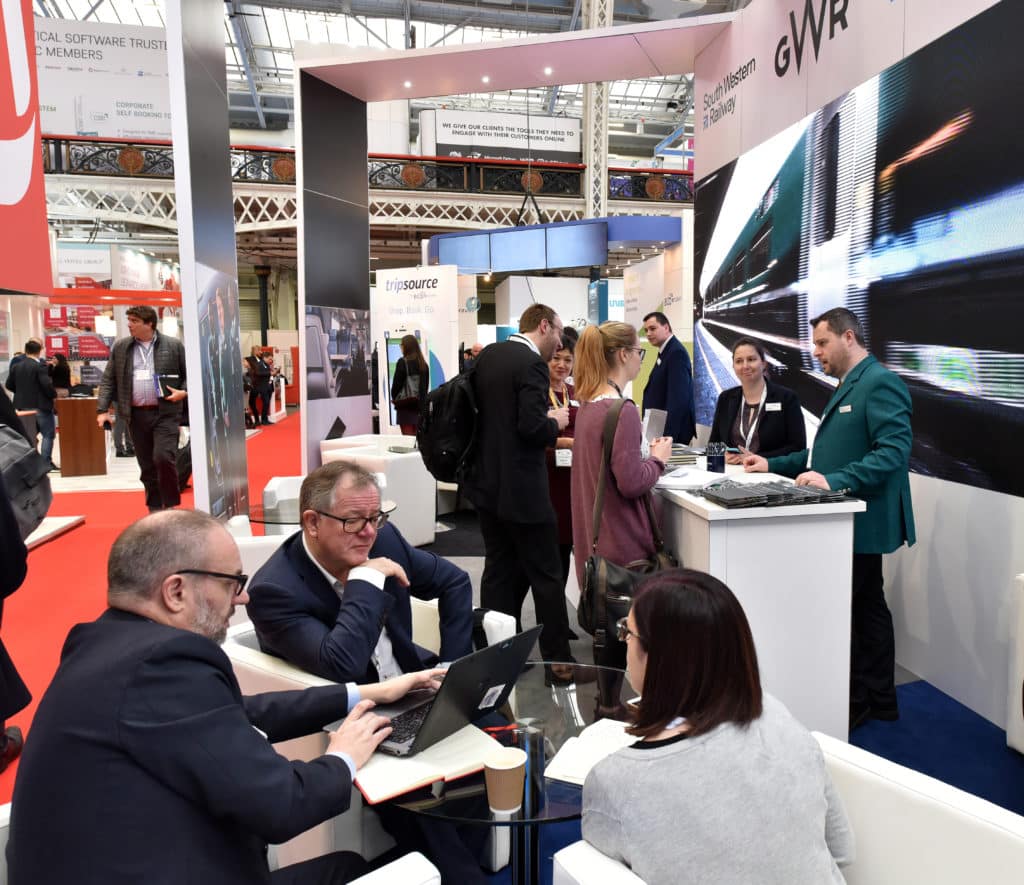 Prior to the installation Symbiosis managed all essential communications with the venue and show organisers.  All services such as rigging, electricity and internet were booked and Health & Safety paperwork signed off.
After a smooth build, the completed stand – beautifully clean  and with the latest video running – was handover early to a delighted client.  And our at-show support team popped back throughout the show to ensure #OutStanding service.
Business Travel Show 2020
We were delighted to be asked to work again with GWR,  South Western Railway & TransPennine Express on the stand for the Business Travel Show 2020. As they really loved the design, we recreated the structure bringing it up-to-date with refreshed seamless fabric graphics &  colour matched carpets.